Matthew Whitaker
Part of the Folly Jazz Series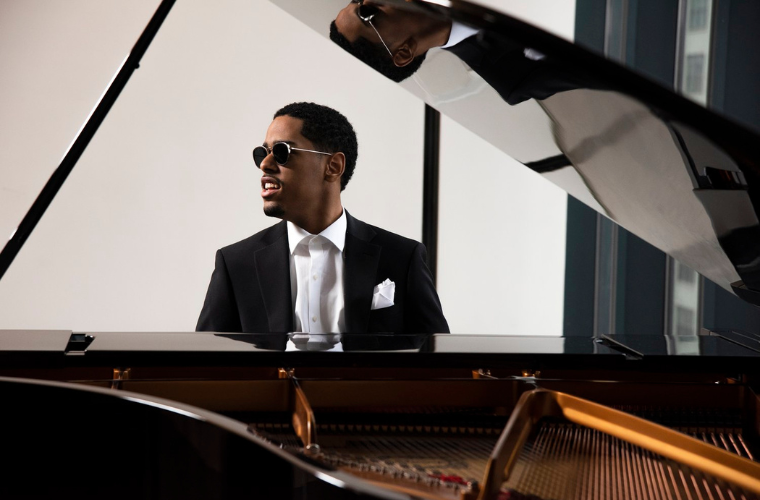 Matthew Whitaker
2023 - 2024 Jazz Series Subscriptions & Tickets on sale NOW
Box Office Opens: 6:30pm
Jazz Talk*: 7:00pm
Theater Doors Open: 7:30pm
*pre-show discussion with performer, all ticket holders welcome to attend! Subject to change depending on artist schedules
" As composer, arranger and musician, Matthew Whitaker is beyond his years and focused on sharing his gifts and joy with the world. Enjoy, with the knowledge that there is more to come."
— Marion J. Caffey, Producer Amateur Night at the Apollo
"Matthew Whitaker is music. To see and hear him play is to know that divine talent exists. Beyond his innate musical abilities is a sheer joy and passion to create music."
— WBGO
Born in 2001 in Hackensack, NJ, Matthew Whitaker grew up surrounded by music. His love for playing music first began at the young age of 3 after his grandfather gave him a small Yamaha keyboard. At 9, Matthew began teaching himself how to play the Hammond B3 organ. Four years later, he became the youngest artist to be endorsed by Hammond in its 80+ year history. He was also named a Yamaha Artist at 15, becoming the youngest musician to join the stellar group of jazz pianists.
Matthew has had years of music instruction, currently in his third year in the Jazz Studies program at The Juilliard School.
He's previously studied classical piano and drums at The Filomen M. D'Agostino Greenberg Music School in NYC. It is the only community music school for the blind and visually impaired in the US. He also studied at The Harlem School of the Arts and was a member of both the Jazz House Big Band and the Organ Messengers at Jazz House Kids in Montclair, NJ.  Matthew also attended the Manhattan School of Music's Precollege Jazz Program. Matthew is currently enrolled in the BA Jazz Studies program at Juilliard in New York City.
Matthew has toured both here in the US and abroad, performing before The Youth Assembly at the United Nations headquarters in NYC, and on other world-renowned stages, including Lincoln Center for the Performing Arts, the Apollo Theater, Carnegie Hall, and Jazz at Lincoln Center in NYC; SFJAZZ Center in San Francisco; the John F. Kennedy Center for the Performing Arts in Washington, DC; The Raymond F. Kravis Center for the Performing Arts, Monterey Jazz Festival, Newport Jazz Festival, Playboy Jazz Festival, Telluride Jazz Festival and at international venues in France, Italy, Germany, Indonesia, UK, Australia, Switzerland, Portugal, Japan, Spain, Morocco, and South Korea.
Matthew has performed with an array of outstanding musicians: Jon Batiste, Ray Chew, Christian McBride, Dr. Lonnie Smith, Rhoda Scott, Cameron Carpenter, Regina Carter, Jason Moran, Marc Cary to name a few.
In 2010, Matthew was a winning participant in the "Child Stars of Tomorrow" competition, as part of Amateur Night at the Apollo. A year later, at just 10 years old, he was invited to perform at Stevie Wonder's induction into the Apollo Theater's Hall of Fame. He returned to the Apollo for FOX TV's revival of Showtime at the Apollo in 2016, where he won the audience over with his rendition of Stevie Wonder's classic "I Wish."  Matthew has been on national and international radio and television, which includes the Today Show documentary series "Boys Changing the World," Harry Connick Jr Show an appearance on the syndicated TV talk show Ellen and a feature segment on the most- watched news magazine on television CBS 60 Minutes.
In 2017, he was named 1 of the 17 people to watch in New Jersey by The Record, one of New Jersey's largest newspapers, and added to Crain's Business New York breakout list of 20 under 20 as a performing artist. In 2018 The Root added Matthew to its list of 1 of 25 Young Futurist Leaders and was named as 1 of 7 rising stars for 2018 by USA Today network's 201 Magazine.
2019 & 2020, Winner of the ASCAP Foundation Herb Alpert Young Jazz Composers Award for his original compositions "Emotions & Underground!"