MeatEater Live
Presented by AEG Presents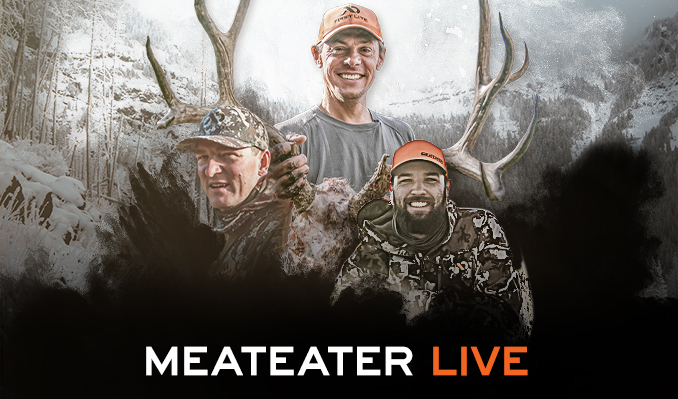 Tickets on Sale Now
**as tickets are not sold by the Folly Theater Box Office, any and all questions regarding ticket purchase should be directed to the event organizers
Doors open at 7PM, Show starts at 8PM
MEATEATER LIVE: Join Steven Rinella, Janis "The Latvian Eagle" Putelis, trivia master Spencer Neuharth, plus friends and special guests for a fun night celebrating the outdoor lifestyle. The MeatEater crew will deliver laughs, trivia, news, and nostalgia from across the worlds of hunting, fishing, wildlife conservation, and wild foods. This all-ages show that blends curiosity, irreverence and humor is sure to be a highlight of your holiday season. At every stop we've set aside a limited number of VIP tickets that get you premium seating and the chance to hang with us before hitting the stage. Steve and the crew will sign merch and take photos, which is only available to pre-show VIPs.
Steven Rinella is the host of the long-running television show MeatEater and top-ranked MeatEaterpodcast. He is the New York Times bestselling author of ten books dealing with wildlife, hunting, fishing, and wild game cooking, most recently Catch a Crayfish, Count the Stars and Outdoor Kids in an Inside World. He is the recipient of the Conservation Achievement Award from The Theodore Roosevelt Conservation Partnership.
Janis Putelis is the Director and Executive Producer of the Netflix Original series MeatEater and co-host of The MeatEater Podcast. Before joining MeatEater in 2012, Putelis spent over a decade guiding hunting and fishing trips in Colorado, Arizona, and Mexico and three years in a professional kitchen.
Spencer Neuharth is the creator and host of MeatEater Trivia. His writing has been featured in over 20 publications, from Field & Stream to Men's Journal. His work reflects his training as a biologist, roots as a whitetail hunter, and newfound interest as a rockhound.