"Spark of Genius"
Presented By The Friends Of Chamber Music Kansas City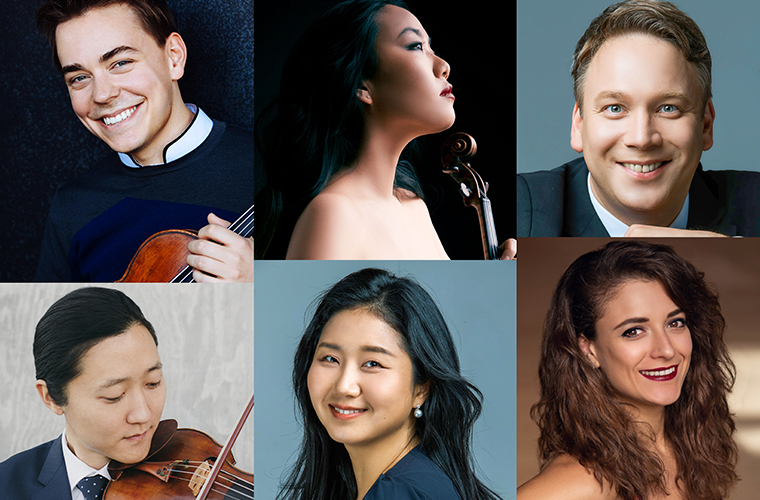 Subscribe and save! Subscription tickets are on sale now. 
Individual tickets on sale now.
**as tickets are not sold by the Folly Theater Box Office, any and all questions regarding ticket purchase should be directed to the event organizers
A program specially assembled by Dmitri and Hyeyeon for you, our Kansas City audience. Joining them on stage will be the winner of the Queen Elizabeth Competition violinist Stella Chen, the multi-award winning violinist Sean Lee, the "most impressive" violist Matthew Lipman, and the spectacular violist Milena Pájaro-van de Stadt. In these hands, our International Chamber Music series will close with the fiery genius of Felix Mendelssohn in his String Quintet in B-flat Major. A true essence of "Brilliance!"
Stella Chen, Violin
The recipient of a 2020 Avery Fisher Career Grant and 2020 Lincoln Center Emerging Artist Award, American violinist Stella Chen is the winner of the International Queen Elisabeth Grand Prize – Queen Mathilde Prize in the 2019 Queen Elisabeth International Violin Competition. Stella has been lauded for her "phenomenal maturity" and "fresh and spontaneous, yet emotionally profound and intellectually well-structured performance" (The Jerusalem Post).
Sean Lee, Violin
American violinist Sean Lee is one of few violinists who dare to perform the complete 24 Caprices of Niccolò Paganini in concert. A recipient of Lincoln Center's Avery Fisher Career Grant, Lee has captured the attention of audiences worldwide, with performances described by the New York Times as "breathtakingly beautiful".
Matthew Lipman, Viola
American violist Matthew Lipman has been praised by the New York Times for his "rich tone and elegant phrasing," and by the Chicago Tribune for a "splendid technique and musical sensitivity." Lipman has come to be relied on as one of the leading players of his generation, frequently appearing as both a soloist and chamber music performer.
Milena Pájaro-van de Stadt, viola
Praised by Strad magazine as having "lyricism that stood out…a silky tone and beautiful, supple lines," violist Milena Pajaro-van de Stadt has established herself as one of the most sought-after violists of her generation. In addition to appearances as soloist with the Tokyo Philharmonic, the Jacksonville Symphony, and the Sphinx Chamber Orchestra, she has performed in recitals and chamber-music concerts throughout the United States, Latin America, Europe and Asia, including an acclaimed 2011 debut recital at London's Wigmore Hall, which was described in Strad as being "fleet and energetic…powerful and focused."
Dmitri, Atapine, Cello