Folly Jazz Series>KCAI 2018 | Folly Theater News
KCAI Student Interview: Caroline Heiss
In an effort to help provide greater exposure for the students at KCAI, we conducted short interviews with each of them! This gives you a chance to learn more about the Graphic Design Students and see their work! The first interview we get to share with you is also the artist whose poster was chosen for the Ramsey Lewis concert!
---
Caroline Heiss
Age: 20 | Field of Study: Graphic Design
[caption id="attachment_5405" align="aligncenter" width="640"]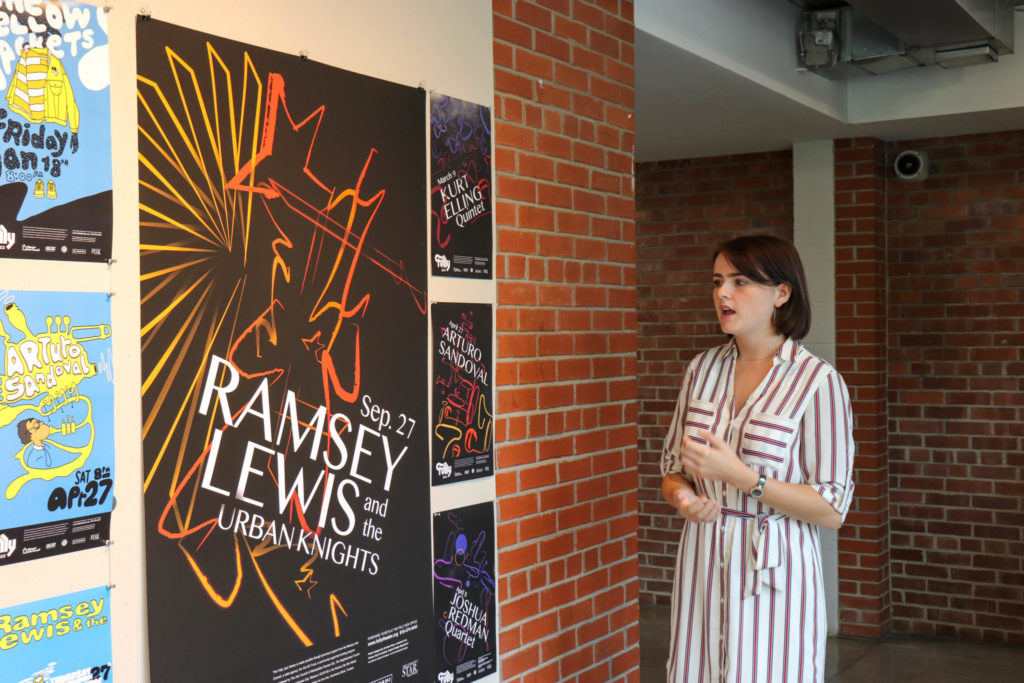 Caroline Heiss. Ramsey Lewis poster winner.[/caption]
What were your honest thoughts when you heard about this project?
"The project was daunting due to the amount of research we had to do on such a small timeline. I knew I needed to nail down a concept and quick"
Who is your favorite artist that you listened to?
"I love Ramsey Lewis! His taste is funky and eccentric. I am a sucker for the 1970's, so his music was right up my alley."
What was your process for creating your posters (in terms that us non-graphic design students can understand)?
"I began with basic research about jazz and the artists. Next, I listened to the music to understand the personality of each artist's music. This helped me come up with basic color schemes and gestures. Finally, I started drawing abstract instruments and shapes to help build the patterns for each artist."
Of your posters, which is your favorite?
"I actually love my Ramsey Lewis poster the most! I struggled with his the most out of all of the artists, but it turned out being the most successful in my opinion."
Where are you hoping your career will go after KCAI?
"I am hoping to work small and local directly after college, then eventually pursue my Master's at Carnegie Mellon."
Anything else you'd like to share?
"It was an honor to help design these posters and support a local business. Graphic Design is everywhere, and it plays a key role in keeping our city functionally beautiful."
Where can we find your work?
Instagram: @Carolineheiss_
[gallery size="large" columns="2" link="none" ids="9570,9571,9572,9573"]