Folly Jazz Series>KCAI 2018
KCAI Student Interview: Jessica Bee
It's time for the second installment of our KCAI Student Interview features! This interview is with Jessica Bee. Jessica's Joshua Redman poster design will be featured at the
Joshua Redman Quartet
concert on April 11th. You can find other student interviews
here
as we post them!
---
Jessica Bee
Age: 20 | Field of Study: Graphic Design
[caption id="attachment_5411" align="aligncenter" width="640"]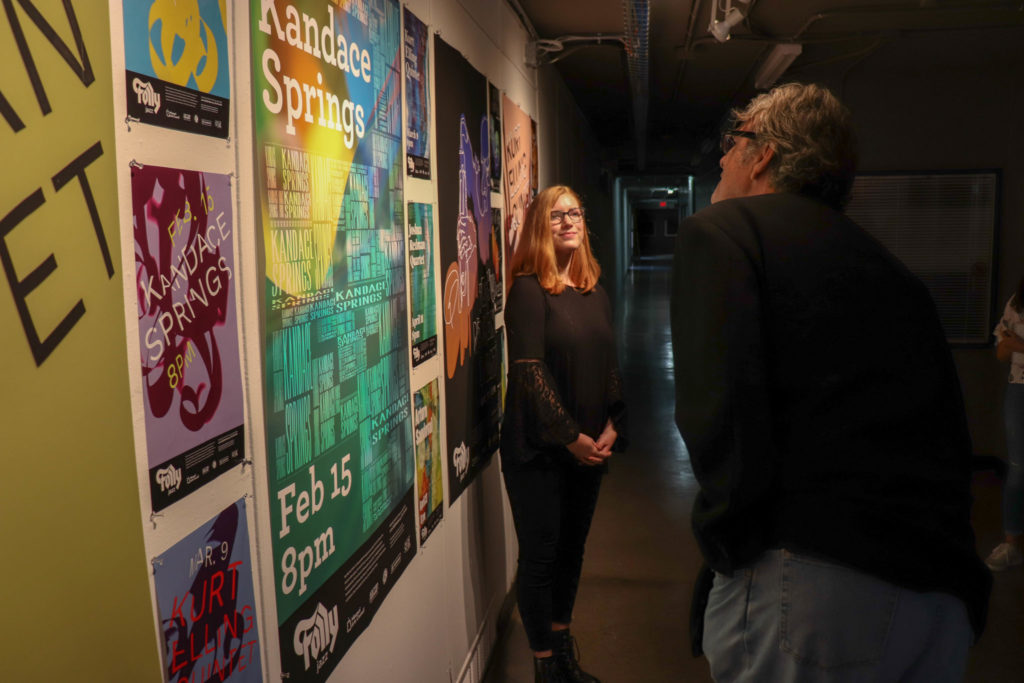 Jessica Bee. Joshua Redman poster winner.[/caption]
What were your honest thoughts when you heard about this project?
" I first heard about the juniors doing it when I was a sophomore and I thought it sounded like an amazing opportunity. Then I became a junior and it became terrifying."
Who is your favorite artist that you listened to?
"Kandace Springs. I enjoyed her unique and upbeat style."
What was your process for creating your posters (in terms that us non-graphic design students can understand)?
"My process started with me making collages out of paper. Then I took pictures of my collage materials. I used those pictures as my backgrounds. I made a pattern  because the repetition in jazz creates a pattern. I made the pattern out of the artists name because how personal and individual jazz is."
Of your posters, which is your favorite?
"My favorite is my Kandace Springs poster because I like that background and pattern the best."
Where are you hoping your career will go after KCAI?
"I have no plans but I am excited about the possibilities."
Where can we find your work?
Instagram: @jebbie14
[gallery columns="2" size="large" ids="9580,9581,9582,9583"]