Folly Jazz Series>KCAI 2018
KCAI Student Interview: Kelsey Ragain
Another poster winner! This edition of the KCAI Student Interview is about Kelsey Ragain, designer of the winning
Kandace Springs
poster. The judges fell in love with the mix of simple lines and impactful colors that Kelsey used to portray each artist.
You can find other student interviews here as we post them!
---
Kelsey Ragain
Age: 21 | Field of Study: Graphic Design
[caption id="attachment_5407" align="aligncenter" width="640"]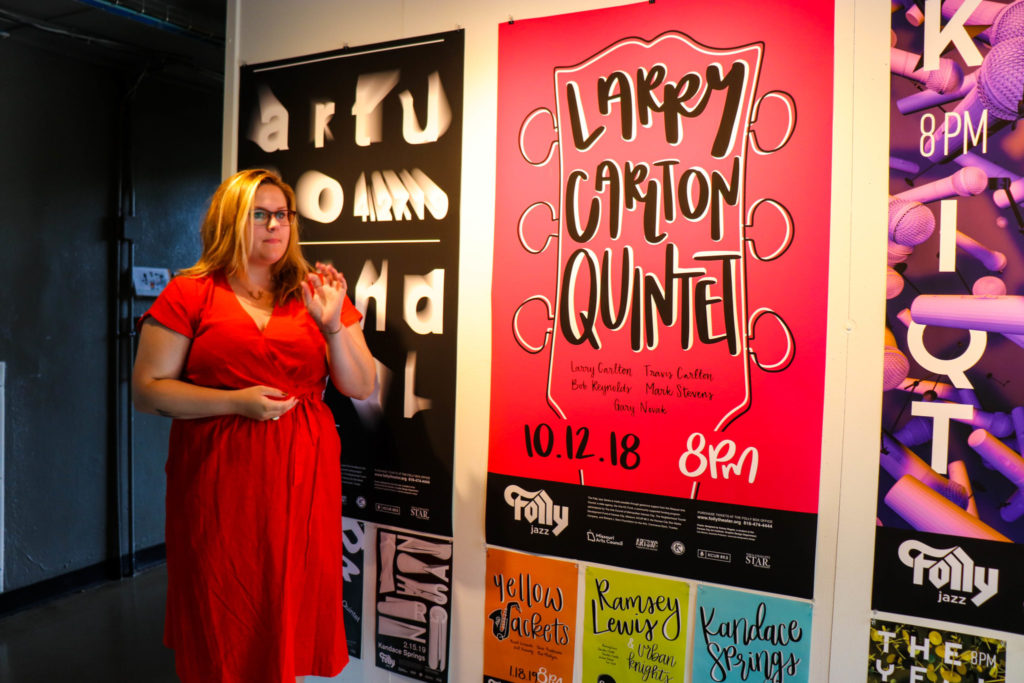 Kelsey Ragain. Kandace Springs poster winner.[/caption]
What were your honest thoughts when you heard about this project?
"I was excited but very nervous. The only thing we knew was coming from the Seniors' experience with the project last year, and I just remembered everyone being extremely stressed. "
Who is your favorite artist that you listened to?
"I really enjoyed Larry Carlton's work. I found it very mellow."
What was your process for creating your posters (in terms that us non-graphic design students can understand)?
"My process for the Folly posters started with research and listening to the music from my four artists. I really wanted to try to incorporate some of my lettering into this project because it is something I haven't done much of yet. The main thing I focused on was that the poster needed to be seen quickly and easily from a distance, so I kept it minimal. I wanted the poster to catch peoples' eyes as they drove past the theater, that is why I chose the bright color palette."
Of your posters, which is your favorite?
"My favorite poster was the one I designed for the Larry Carlton Quintet."
Where are you hoping your career will go after KCAI?
"I am not entirely sure yet, it changes from day to day. Lately, I've been interested in advertising. The ultimate dream is to somehow work for Disney."
Anything else you'd like to share?
"Everyone that participated in this project was so grateful to get this opportunity and put so much effort and heart into what they created."
Where can we find your work?
Instagram: @kragain
Twitter: @KRagain
[gallery columns="2" size="large" ids="9585,9586,9587,9588"]
---
You can find other student interviews here as we post them!