Folly Jazz Series>KCAI 2018
KCAI Student Interview: Lydia Diabendia
This next artist focused on the movement of music and contrasting colors. Lydia created actual scenes using strips of paper and a high-resolution camera. Though she didn't win any poster designs, the judges loved her interpretation of the music! The judges were also impressed by the large amount of research she did on each artist and the
Folly Theater
.
You can find other student interviews here as we post them!
---
Lydia Diabendia
Age: 20 | Field of Study: Graphic Design
[caption id="attachment_5409" align="aligncenter" width="640"]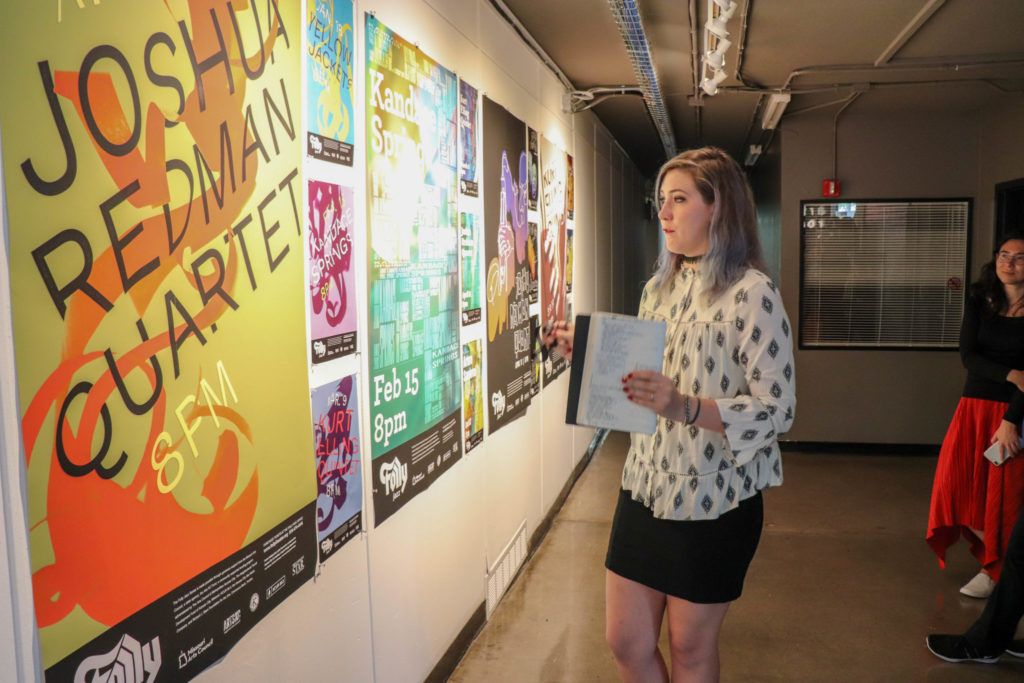 Lydia Diabendia shares her inspiration and process behind her posters.[/caption]
What were your honest thoughts when you heard about this project?
"I was definitely excited. We saw the seniors posters for the Folly last year and had a lot of time to think about it. When the posters were assigned I already had some ideas floating around that I was excited to try."
Who is your favorite artist that you listened to?
"I really liked Kandace Springs. She's classic, but kind of edgy. She has a really bold presence."
What was your process for creating your posters (in terms that us non-graphic design students can understand)?
"I was really inspired by the decoration of the Folly Theater. I started out thinking about the romantic motifs and how they have their own gesture and musicality that can resonate differently with each artist. I cut out strips of paper and curled them into little sculptures and then photographed them at a high resolution. This abstracted the motifs and afforded more dimensionality than drawing them."
Of your posters, which is your favorite?
"I really like the Joshua Redman one."
Where are you hoping your career will go after KCAI?
"I'm interested in user experience, publications, and research-based design. I would be happy doing many things, but I really enjoy research and visualizing information."
Where can we find your work?
Instagram: @evenfall_ink
[gallery columns="2" size="large" ids="9592,9593,9594,9595"]
---
You can find other student interviews here as we post them!