Artists | Folly + 90.9 The Bridge Americana Concert Series | Upcoming Events
Let's Learn about The SteelDrivers

The SteelDrivers are an iconic band to any self-respecting Bluegrass, Folk, or Americana music lover. With a band that at one time included the likes of Chris Stapleton and Gary Nichols, the group continues on with a new lead member and some amazing music behind their newest album.
The SteelDrivers will be at the Folly
on Friday, September 13th at 8 PM
We took a minute to visit their website and learn some more about them!
---
They say the only thing consistent about change is…well, that it changes. Whether through design or destiny, that's a precept the SteelDrivers know all too well.
Throughout their career –one that encompasses four highly acclaimed albums and any number of awards and accolades –the band has demonstrated the ability to adapt to change with unwavering persistence. Theirs is a lingering legacy defined by quality and consistency. It's one in which they've never stopped looking forward, successfully marshaling their resources for wherever that trajectory takes them.
Ultimately, it's all about the music. "Our dedication and determination remain intact," says singer, songwriter, and fiddler Tammy Rogers. "We honor our older music by always putting our focus on the songs. Some people describe our music as being bluegrass based, but the fact is, we're not bound to any one regimen. I liken us to what the Rolling Stones would sound like if they played banjos, fiddles, and mandolins – it's that rock-n-roll edge played on traditional instruments. I don't know if that's true, but we are primarily a band that's centered around songwriting and also just happens to have a bluegrass background."
That persistent push could be called the key to SteelDrivers' success. Each step in their journey has created a new chapter, one that finds them building on the past but consolidating their strengths as they build for the future.
That's also been the case since the beginning, when Rogers, multi-instrumentalist Mike Henderson, bass player Mike Fleming, banjo player Richard Bailey, and singer/guitarist Chris Stapleton first convened after a series of songwriting sessions between Henderson and Stapleton. What began as a casual get-together to jam in the late summer of 2005 became a fully committed band that signed with Rounder Records in 2007.
They released their eponymous debut album at the beginning of 2008, garnering a GRAMMY® nomination for Best Country Performance by a Duo or Group with Vocals for one of the songs in that set, "Blue Side of the Mountain." That honor was followed two years later when they received two more nominations for Reckless, their sophomore set — one for Best Bluegrass Album and another for Best Country Performance by a Duo or Group with Vocals courtesy of its song "Where Rainbows Never Die."When Stapleton left the fold for a highly successful solo career in April 2010, the band closed one chapter and began another anew, while literally never missing a beat.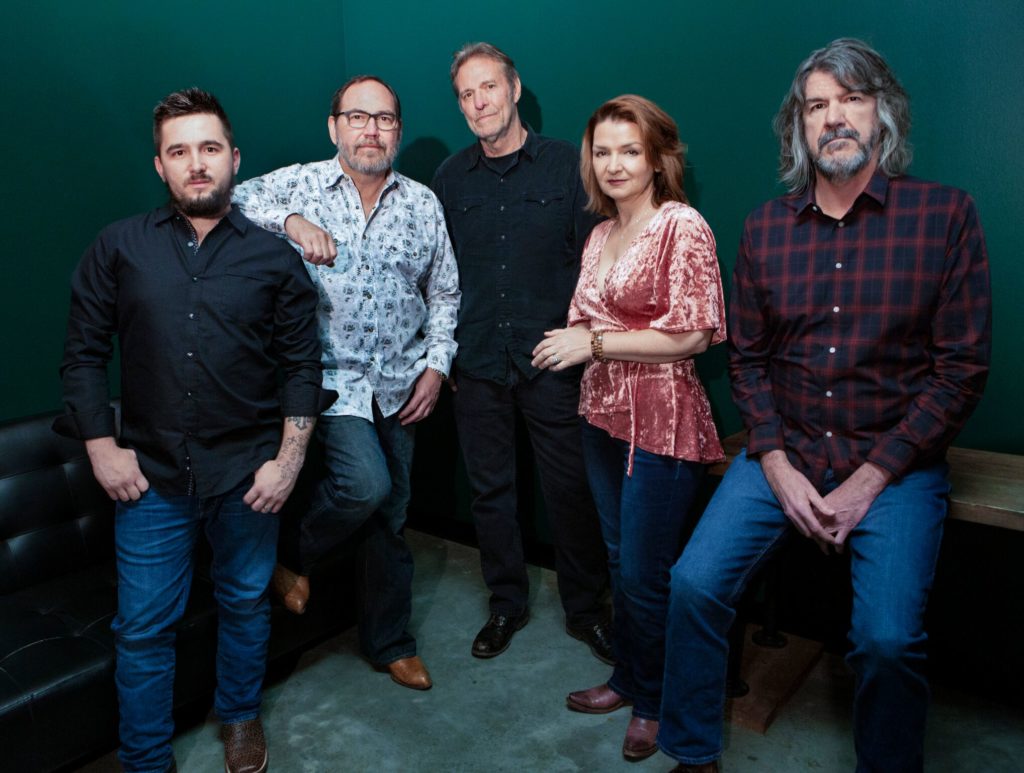 Singer/guitarist Gary Nichols, a highly accredited artist in his own right, was brought on-board for the recording of the band's third album, 2012's Hammer Down, which subsequently climbed all the way up to number one on the Billboard Bluegrass charts, their highest placement yet. Nevertheless, the real journey had just begun. When Henderson left the band at the end of 2011, musician and producer Brent Truitt was brought in as his replacement. If there was any proof needed that the momentum had been maintained, The SteelDrivers' highly acclaimed fourth album, 2015's The Muscle Shoals Recording (featuring guest contributions from Nichols'onetime bandmate Jason Isbell), garnered the group that long-elusive GRAMMY® win with a notable nod for Best Bluegrass Album. In addition, it garnered three IBMA nominations — Album of the Year, Song of the Year (for "Long Way Down"), Songwriter of the Year (for Rogers) and Best Liner Notes (for writer Peter Cooper).
Still, one more major development was left to come. Nichols departed in August 2017, leaving yet another void the band was left to fill. Once again, the group rose to the challenge, selecting Kentucky native Kelvin Damrell after Rogers' daughter spotted him singing on a YouTube video. He fit in just fine, and today again, The SteelDrivers' saga continues unabated. Part of the lure is undoubtedly due to the freedom each musician gets to express themselves without any reservation, even as the group maintains the consistency of its sound. Rogers, a former member of the all-star Dead Reckoning music stable, is widely recognized as one of the most versatile and expressive fiddlers on the scene today. Truitt and Bailey are certified string benders who take their respective instruments to new levels of innovation and expertise. Damrell's vocals and fretwork add a fresh voice to the mix, while Fleming continues to anchor it all with rock-solid rhythm and a firm foundation.
It's a sound The Tennessean once described as "Gutsy, gritty bluegrass songs." The Philadelphia Inquirer put it even more succinctly. "You can call it power-bluegrass or country soul, but whatever you call it, Nashville's Steeldrivers have bushels of it."In fact, The SteelDrivers' success lies in their consistent growth and ability to reinvent their regimen.
It's also nurtured the various influences that each member brings to the band. With the emphasis on song structure as to parceling out their parameters, elements of Americana, country, blues, rock, and soul all enter the equation. Yet their consistent standing at the IBMA awards –which began when they were voted Best Emerging Artist — testifies to the fact that they've been able to maintain a fierce following even while growing their audiences at every interval.
The band plays approximately 75 shows a year, including major festival appearances at Bonnaroo, Merlefest, Wintergrass, Bristol Rhythm, and Roots and Telluride Bluegrass Festival. It's their populist approach that finds their devotees — self-proclaimed "SteelHeads"– traveling hundreds of miles to see them in repeat performances. "It's hard to believe it's been ten years since our first album," Rogers muses. "And yet, even with all the change and transition, we still have the same joy and enthusiasm that we did in the beginning. Even as the trajectory changes, the story continues to unfold."
Courtesy of TheSteelDrivers.com
---
The SteelDrivers will be joining us as a part of the Folly + 90.9 The Bridge Americana Concert Series!
Don't miss them live at the Folly on Friday, September 13th!
Tickets range from $20 to $45
You can find more concerts that are a part of the Folly + 90.9 The Bridge Americana Concert Series HERE
---
The Folly Theater thanks its generous Sponsors for the Folly + 90.9 The Bridge Americana Concert Series